Three-dimensional Microsocope
We have determined the three-dimensional image-forming properties of zero microscope for use in obtaining very high resolution three-dimensional images of biological structures by image processing methods.
Three-dimensional microscopic data is collected as a series of two-dimensional images recorded at different focal planes.
Each of these images contains not only in-focus information from the region around the focal plane, but also out-of-focus contributions from the remainder of the specimen.
Once the imaging properties of the microscope system are characterized, powerful image processing methods can be utilized to remove the out-of-focus information and to correct for image distortions.
Understanding the optical behavior of the microscope system has indicated how to optimize specimen preparation, data collection, and processing protocols to obtain significantly improved images.
Carver-600TE engraving CNC lathe machine
4 axis two-head high precision high speed high efficiency glass carved engraving CNC lathe machine
Appliction Industry
Trepanning and Shape Processing of Glass Lenses.
Cutting and Chamfering of PC and PVC and acrylic and PET window lens.
Batch Processing of Mobile phone Keys and Panels.
Batch processing of mobile phone test fixture.
Processing of precision electrode, planks, jewelry, glasses, watches and clocks, hardware machinery, aluminum alloy parts.
Machine Features:
DA-600 series CNC carved machine body adopts one hundred million precipitation of jinan green granite deformation of high precision, no vibration while processing
Imported Japanese THKC3 high-precision screw.
Imported Japanese THKP matching guide rail.
THK pairing original bearings, high precision, long service life.
Automatic oil supply system, fuel supply regularly, longer service life.
High precision, high sensitivity, the Japanese dragon virtue instrument against the knife.
Spindle with industrial cold water machine, constant temperature and long service life.
Adopting 1 million high resistance to bending of flexible cable.
NSV 102AM Milling machine
Reinforced Body Structure
▲ FEM analysis strengthens the structure of the machine to provide the best cutting rigidity.
▲ Extra Large delta machine column and base ensure the highest stability during high speed movement.
▲ Wide span of axial guide ways.
▲ One-piece motor housing design enhances machine rigidity.
In-house Design IDD Plus Spindle
▲ Low vibration and optimal head isolation reduces thermal deformation resulting in excellent finish while maximizing both spindle and tool life under hard milling conditions.
▲ Up to 20,000 rpm spindle speed and 22 kW output (30 kW opt.).
▲ BBT40 dual contact spindle taper enhances heavy cutting ability and accuracy.
High Precision Axial Movement
▲ High precision roller type guide ways on all axes.
▲ the rigidity and loading capacity are highly elevated by double-nut ball screws.
Fast and Reliable ATC System
▲ Column-mounted tool magazine can restrain vibration and ensure the highest reliability.
▲ Automatic chip shield design prevents chip contamination.
▲ Ultra fast 1.8 tool to tool change.
Efficient Chip Removal System
▲ Standard Triple chip auger design for optimal chip removal.
▲ Optional dual chip auger with chip conveyor design for maximum chip disposal.
H-1060B Male thread grinding machine In addition to metric, Whitworth, trapezoidal threads and special profiles, the CNC H-1060B also allows grinding of worm gears with shapes ZK, ZN, ZE and ZA with one or multiple starts.
The cylinder correction can be programmed with the control.
The pitch can also be programmed variably over the thread length. The machine can be supplemented with a female thread grinding unit with high frequency grinding spindle.
The tools are profiled by means of plunge cut dressing on a profile roller or path control via the machine axes on a universal diamond roller.
Mikino- EDGE2 electronic discharge machine
Features
The EDGE2 with fine-hole option features 12 x 10 x 10 inch travels and weighs a sturdy 6,000 pounds.
The machine bed is a heavily ribbed, single piece casting. Anti-friction linear guides and bearings complete the high-performance design, combining excellent rigidity with low-mass dynamics. This heavy-duty construction, combined with the fixed table, brings high levels of rigidity to every application.
Makino's award-winning drop tank design and dielectric chiller completes these features. The drop tank improves many aspects of the EDM process, as the retractable tank walls provide wide-open table access for safe, simple slide-on loading and faster, more accurate setups. The adjustable tank depth allows matching of dielectric fluid level to workpiece size.
Standard Features Promote Unattended Operation
The EDGE2 with fine-hole option is further enhanced by an array of Makino's standard EDM
features, including:
an eight- or 16-station automatic electrode changer for unattended operation and improved throughput.
An MA rotating head capable of standard 10 to 1,000 rpm rotation.
High performance Z-axis spindle capable of up to 400-in./min. high speed jump.
An automatic fire extinguisher to protect the operators, work piece and machine.
A fixed table that eliminates dielectric weight shift during machining and improves servo reaction speed and precision.
Fine-Hole machining option capable of automatically changing 0.0039-inch diameter x 12-inch long pipe electrodes from the ATC unit.
Fine-Hole machining option capable of utilizing 0.0012" diameter electrodes.
Special electrode dressing operations permit automatic dressing routines to produce electrode to as small as 0.00024" diameter.
Hot Runner Systems – Component Overview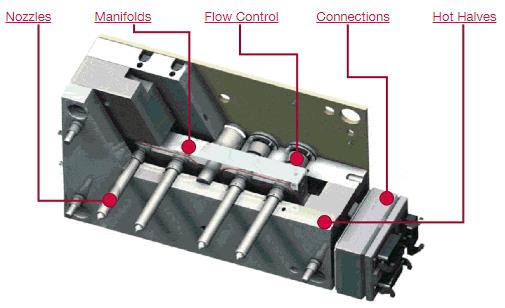 Hot runner systems are feed systems for injection molds which convey molten plastic from the machine nozzle into the cavity. Hot runner systems consist of the components listed below, from which your individual system can be made.
Hot runner nozzles are the link to the cavity. They either directly gate into the part or into a sub runner which will lead into the cavity. There are 4 categories of hot runner nozzle styles available. Threaded Nozzles, Support Ring Nozzles, Single Valve Gate Nozzles, Sprue Bushings.
hot runner manifolds are available in standard shapes – I, H, X, Y,  and in any realizable custom shape, the ranges of manifolds cover all possible hot runner injection configurations and mold concepts.
Valve technology to control the melt flow has long been established in the form of valve gate nozzles.
All relevant connections – electrical, thermocouple, hydraulic, pneumatic, coolant – are brought out to the connection box and/or connection plate with appropriate connectors.
Connections and supply lines for hot runner systems with the following functions and installation types:
Wiring -Power & Signals
Piping -Compressed air supply & Hydraulic oil supply & Cooling water supply
Installation inside mould
All wires and hoses are installed in grooves and cut outs inside the mould.
Power and signals
Heaters and thermocouples of the nozzles)
Heaters and thermocouples of the manifold and the inlet bushing
Hoses
c) Cooling water supply to cool the actuators) Pressure supply to the actuators
Installation inside wire and hose guards
All wires and hoses are installed inside guards which are attached to the hot runner system.
Wire guard with retainer plate for the connection box f) Hose guard with connection plate for the hoses.
750 &1250 tone injection machine
Have multi-loops according to mold conditions and molding requirements. In addition, share screw charge to the movements of opening & closing mold and ejectors move at the same time, thus shorten cycle time.
Under the design of triple loops, the cycle time can achieve within 11 seconds excluding cooling time. According to the testing of produce 2.1kg beach chair by PP material, the cycle time can achieve within 33 seconds if adopting with good mold cooling system. It's top capacity than others.
Durable usage by applying new series toggle system upon finite element analysis (FEA), high strength and weary-resistance to get long life of tie bars and assure quality of products.
All new high rigid structure frame, design upon Finite Element Analysis (FEA) of stress and strain affect. Assure the excellent of frame structure, the SE Series 90-750 ton…..etc. was capable of this advantage improvement
Design upon high frame, not necessary to device robot, obtain products from drop outlet, suitable for speedy molding operation.
Apply to shut-off nozzle for injection.
FCS-3000 microcomputer controller (sampling time reach 1.25ms).
Suitable for large expansion tank products, for example, auto spare parts, etc.